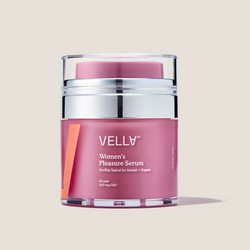 J'ai of Beverly Hills
Vella Women's Pleasure Serum
No offense to good lube, but our serum is a lot more. Crafted by scientists, Vella works deep beyond the skin and relaxes your vaginal and clitoral smooth muscle tissue. The result—more frequent, intense, and satisfying orgasms, for women at every age and life stage.
How To Enjoy: 
Apply three pumps, 15–25 minutes before sex or solo play to your inner labia and clitoris. Lasts for 2 hours. Enjoy solo. Or together. But always, practice safe sex.
Our Ingredients:
99% pure nano-encapsulated CBD, phospholipids, thickener, propanediol, vitamin C, sodium ascorbate, phenethyl alcohol, water.
Our promise: Clinically tested. Cruelty-free. Parabens free. Sustainably sourced. Responsibly packed. Vegan