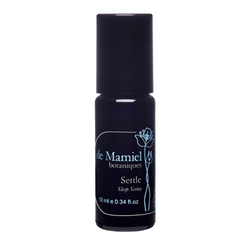 J'ai of Beverly Hills
de mamiel settle
Turn to Settle on those nights when sleep evades you, when you are wide awake, mind buzzing, feeling restless and a to do list is running through your head.  
Settle works beyond mere sedation; it acts within the body, helping to reduce inflammation that would otherwise hinder a restful and restorative sleep. The base oil combines a bespoke blend of herbs, watermelon seed oil and passionflower oil to maximise the absorption of vitamins and minerals such as Magnesium, Zinc and B Vitamins that are essential for quality sleep. Together with the essential oils, this potent blend settles both the mind and body and eases you into a deep, calm and comfortable slumber.
"The perfect aromatic blend for pressing pause on the whirlwind of the day and helping you shut off your mind for sleep."
How To Use
Apply Settle to your palms and gently rub your hands together. Place over your nose and breathe deeply for a minimum of 3 breaths. Anoint the inside of your wrists then roll the oil across your chest and breathe. Exhale and roll the oil back, letting go of any tension.
Ingredients
Passiflora incarnate (passion fruit) flower oil*, Citrullus vulgaris (melon) seed oil*, Carthamus tinctorius (safflower) flower oil*, Lavandula angustifolia (lavender) flower oil, Santalum album (sandalwood) wood oil, Boswellia carterii (frankincense) resin oil, Chamecyparia obutusa (hinoki) wood oil, Citrus aurantium bergamia (bergamot) peel oil*, Rosa damascena (wild rose) blossom oil, Jasminum grandiflorum (jasmine) flower extract*, Commiphora myrrha (myrrh) gum oil, Vetiveria zizanoides (vetiver) root oil*, Tillia cordata (linden) blossom extract*, Valeriana officinalis (valerian) extract*, Eschscholzia californica (california poppy) extract*, Humulus lupulus (hops) extract*, Magnolia officinalis (magnolia) bark extract*, Withania somnifera (ashwagandha) extract*, Schisandrae fructus (schisandra) fruit extract*, Astragalus membranaceus (astragalus) root extract*, Angelica archangelica (dang gui) root extract*, Linalool°Bespokely sleep series , created from flower and environmental essences, LightBringer essences Sweet Night Angel Star (Stellaria graminea), Butterfly Orchid (Platanthera bifolia), Early Purple Orchid (Orchis mascula), Fly Orchid (Ophrys insectifera), Sanicle (Sanicula europaea), Yellow Wort (Blackstonia perfoliata)