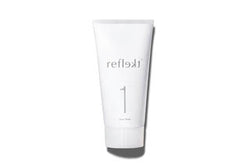 J'ai of Beverly Hills
Reflekt 1 Daily Exfoliating Face Wash
A gentle, twice-daily face wash formulated with clean ingredients that cleanses, exfoliates, and hydrates to help you achieve the balance your skin craves—and deserves.
Benefits: 
Minimal, effective, and suitable for even the most sensitive skin types.

Evens Skin Tone and Minimizes Pores
Our signature jojoba ester beads gently buff away dead skin cells, help fade dark spots, and work to minimize the appearance of pores.

Balances pH
When skin is balanced, it's neither too oily, nor too dry, but rather glowing, supple, and hydrated. Reflekt helps skin achieve an optimal pH for a noticeably healthy complexion.

Prevents Acne
Lightly buffing away breakout-inducing oils and unclogging pores, without disrupting the skin's barrier function, helps keep the complexion blemish-free.

Smooths Fine Lines & Wrinkles
Hyaluronic acid and vegetable collagen work in tandem to deeply moisturize and boost elasticity, thereby smoothing fine lines and blurring the appearance of wrinkles.