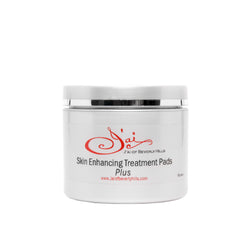 J'ai of Beverly Hills
Skin Enhancing Treatment Pads Plus
20% Glycolic acid daily glow treatment pads gently exfoliate, moisturize and assist in the removal of oils and residue on the skin. Convenient and simple to use treatment pads contain witch hazel to deliver skin toning and astringent benefits. 
60 Pads
J'ai says
I recommend these pads for use on chest area or arms nightly and once a week for the face between regularly scheduled facials.
Ingredients 
Purified Water, Glycolic Acid, Ammonium Hydroxide, Hamamelis Virginiana (Witch Hazel) Water, Polysorbate-20, Phospholipids, Retinyl Palmitate, Tocopheryl Acetate, Ascorbyl Palmitate, Ubiquinone (Co-Q10), Disodium EDTA, Sodium Benzoate, Menthol, Acetone, Imidazolidinyl Urea.