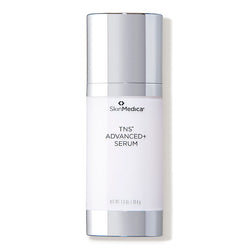 J'ai of Beverly Hills
SkinMedica® TNS® Advanced+ Serum
SkinMedica's TNS Advanced+ Serum is a skin rejuvenating formula that visibly improves the appearance of coarse wrinkles, fine lines and sagging skin. Powered by TNS®-MR and Renessensce (RSC) Advanced, this combination encourages skin cell renewal and supports collagen and elastin levels revealing a smoother, more radiant and youthful complexion.
Key Ingredients:
TNS®-MR:

 

This advanced formula acts on multiple levels to help get you to your best results. Next-generation growth factor blend supports healthy skin functions and an innovative peptide complex nourishes your skin.
Renessensce (RSC) Advanced:

 

This highly active blend of botanicals, marine extracts, and peptides includes french flax seed to support repair functions. Spanish marine extract supports skin's renewal processes and green microalgae support collagen and elastin levels.
Key Benefits:
Smooths visible coarse wrinkles and fine lines
Visibly lifts sagging skin
Evens the appearance of skin tone and texture
Visible results start in just 2 weeks, with progressive improvements measured over 24 weeks* 
Colorless and fragrance-free
*Data on file at SkinMedica