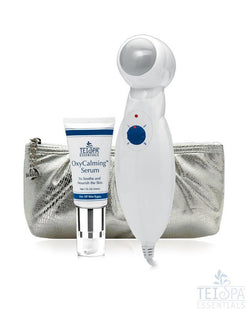 J'ai of Beverly Hills
OxyDerm High Frequency - At Home Acne Clearing Tool for Face & Body
The OxyDerm Professional Beauty Device has been developed by the professionals at TEI Spa to aid in the purification and sterilization of skin, fight against inflammation, and accelerate the skin's metabolism. TEI Spa professional technology has made it possible for those with blemish-prone skin to experience maximum anti-acne results in the comfort of their own home, in just minutes a day. The OxyDerm not only helps clear up acne and blemished skin, but visibly brightens skin tone and complexion for health, radiant skin.
How It Works
The OxyDerm At Home Ozone Facial Device works by generating tiny pulses of electricity, much like static electricity. When this static electricity travels through the air it ionizes the air it's passing through creating ozone (or three molecules of Oxygen) which possesses strong oxidation or sanitizing abilities. By expelling carbon dioxide into the skin, your skin is able to absorb more oxygen, which allows better circulation. By strengthening cell functions you improve the clarity and quality of your skin, giving it a more beautiful, clear and youthful appearance.
Directions
Removal all-metal Jewelry before use. Not for use by individuals with braces.  Be sure to use the OxyDerm only on clean and dry skin. It is recommended to use the OxyDerm nightly after removing all makeup, cleansing and drying the face.
For All Skin Types:
For Oily Skin: Produce a drying effect that kills bacteria and diminishes excess sebum. Use daily, or as needed, on T-zone and U-zone in small circular motions for 1-2 minutes.
For Combination Skin: Use 3-4 times per week, or as needed. Focus use on oily areas and use minimally on sensitive areas.
For Dry Skin: Produce a warming effect that increases activity in the glands and optimizes skin nourishment. Use 2-3 times per week, or as needed, on T-zone in small circular motions for up to 1 minute.
For Full Body Use:
Treat the Back & Body by using tool in large circular motions for 1-2 minutes. Ideal for treating acne, marks and redness on the body.
Treat the Chest & Neck by using tool in large circular motions for 1-2 minutes. Ideal for treating redness, irritation and sensitivity on the body.
Treat Specific Blemishes by using the tool in a small circular motion at a slower pace on affected area or blemish. Use for up to 30 seconds per target area.