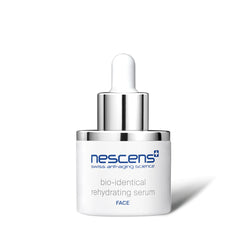 J'ai of Beverly Hills
Nescens Beauty Bio-Identical Rehydrating Serum - Face
Nescens bio-identical rehydrating serum which optimitize the epidermal moisture flows has a major influence on the skin's youth markers.
TARGETED ISSUES
dehydration

COSMECEUTICAL BENEFITS
Encourages syntheis with the different components of the Natural Moisturizing Factor (NMF) to compensates for the deficit, linked to aging and sun exposure.
Rebuilds the lamellar structure of skin lipids
Prevents damage to intercellular cement
Activates aquaporins ("water pumps") in cell membranes
Corrects deficiencies in hyaluronic acid production and activate its synthesis.

NESCENS COSMECEUTICAL SYSTEM
The bio-identical rehydrating serum is recommended as a long-term treatment for constitutional dehydrated skin conditions or as an intensive course of treatment for punctual dehydrated skin conditions fostered by particular climatic conditions. In compliance with the Nescens cosmeceutical system, it is recommended to apply the bio-identical rehydrating serum twice daily, prior to the application of the Nescens correcting care treatments to boost their moisturizing effect.
MAIN ACTIVE INGREDIENT
Pyrrolidone carboxylic acid
Lactic acid
Xylose
Tamarindus indica extract
Glycerin
Urea
Saccharide isomerate
Amino acids mix