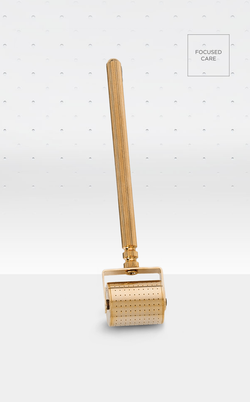 J'ai of Beverly Hills
Environ Environ Gold Roll CIT Microneedling
This elegant instrument is a 14ct gold plated rolling device with 260 ultra-fine needles of the highest grade surgical 316 stainless steel. The needles are 0.2 mm in length. The Gold Roll-CIT® has the advantage of being easy to clean and gold naturally suppresses bacterial growth.
Use & Care: 
• Pre-cleanse, cleanse and tone with your preferred Environ skin care products.
• Divide the area to be treated into sections: the forehead, the nose, the cheeks, the mouth area and the right and left sides of the neck, not forgetting the décolleté area and the back of the hands.
• Start on the forehead and roll vertically. Roll over the forehead and eyebrow area thoroughly. Gradually move across the skin until the forehead has been totally treated about two to five times in a vertical direction. Then roll obliquely at the same intensity covering the same areas and finally roll horizontally, rolling over each area of skin at least two to five times in each direction. Treat each area sequentially until the whole face, neck and décolleté have been treated thoroughly and evenly.
• Three to five minutes are usually sufficient for the face and neck, depending on your speed of rolling. The Gold Roll-CIT® should be used on the upper and lower eyelid with caution. The upper eyelid cannot be treated below the bone of the brow, unless the skin is pulled up taut onto the bony margin.
• The client must be prepared on adequate doses of topical vitamin A, C and E prior to the treatment to avoid the possibility of retinoid reaction .
• Rinse the Gold Roll-CIT® with warm water before and after use and cleanse thoroughly once a week.
• The instrument is designed to be used by one person only and must be kept away from children at all times.
• Handle with care and do not drop to avoid damaging the needles.
• Use only as directed.