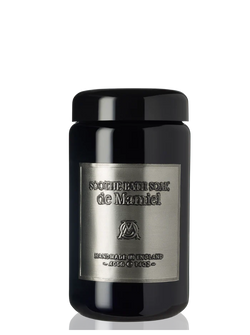 J'ai of Beverly Hills
De Mamiel Soothe Bath Soak
Designed to ease stress and anxiety
For when you are on edge and find it impossible to chill, this calming bath soak allows you to unwind and alleviate tension, promoting a profound sense of release and relaxation.

Magnesium Salts soothe mind and body, and support the production of Melatonin, the sleep hormone whilst Himalayan and Dead Sea Salts smooth and soften skin and Amethyst helps ease stress and strain and reduce irritability and negativity.
Calming Lavender and warming Ginger bring comfort and restore emotional equilibrium, Sweet Orange, Neroli and Monarda combine to lighten anxiety while Petitgrain and Sandalwood reduce nervous tension and Mandarin uplifts the spirits and can inspire a sense of contentment

Soothe Bath Soak allows the mind and body to dispel the tensions of the day and promotes a sense of serenity.
Ingredients 
Sodium Chloride (Himalayan Salt And Dead Sea Salt), Magnesium Sulfate (Epsom Salts), Magnesium Chloride, Sodium Bicarbonate, Powdered amethyst, Cocos Nucifera (Coconut) Oil, Lavandula angustifolia (lavender) flower oil, Citrus sinesis (sweet orange) peel oil*, Citrus reticulata (mandarin) peel oil*, Citrus reticulata (mandarin) peel oil*, Styrax tonkinensis (benzoin) resin oil, Jasminum grandiflorum (jasmine) flower extract*, Citrus aurantium amara (neroli) flower oil*, Santalum album (sandalwood) wood oil, Boswellia sacra (frankincense sacra) resin oil, Monarda fistulosa (bee balm) flower oil, Zingiber officinalis (ginger) root oil*