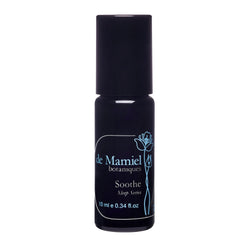 J'ai of Beverly Hills
de mamiel soothe
Choose Soothe when you are feeling anxious and struggle to let go of that governing thought through the night.  If your mind and stomach feel in constant turmoil, keeping you from restful sleep or making you wake frequently. 
Soothe provides a welcome balance and stops that uncomfortable churning feeling we hold in our centre, promoting abundant good quality sleep. The base oil combines a bespoke blend of herbs, watermelon seed oil and passionflower oil to maximise the absorption of vitamins and minerals such as Magnesium, Zinc and B Vitamins that are essential for quality sleep. Together with the essential oils, this consoling blend clears your mind of turbulence, easing anxiety and allowing for an extended, deep and peaceful slumber.
"I use this when frayed nerves and anxious thoughts threaten to derail a peaceful night's sleep. I find it immediately helps calm and soothe me, ready for slumber."
How To Use
Apply Soothe to your palms and gently warm in your hands. Place over your nose and breathe deeply for a minimum of 3 breaths. Anoint the inside of your wrists and rub into your stomach and centre line. Use at bedtime and as often as you need throughout the day.
Ingredients 
Citrullus vulgaris (Melon) seed oil, Simmondsia chinensis (jojoba) seed oil*, Passiflora incarnate (passion fruit) flower oil*, Lavandula angustifolia (lavender) flower oil, Citrus sinesis (sweet orange) peel oil*, Citrus reticulata (mandarin) peel oil*, Citrus reticulata (mandarin) peel oil*, Styrax tonkinensis (benzoin) resin oil, Jasminum grandiflorum (jasmine) flower extract*, Citrus aurantium amara (neroli) flower oil*, Santalum album (sandalwood) wood oil, Boswellia sacra (frankincense sacra) resin oil, Monarda fistulosa (bee balm) flower oil, Zingiber officinalis (ginger) root oil* Bespokely sleep series , created from flower and environmental essences, LightBringer essences Sweet Night Angel Star (Stellaria graminea), Butterfly Orchid (Platanthera bifolia), Early Purple Orchid (Orchis mascula), Fly Orchid (Ophrys insectifera), Sanicle (Sanicula europaea), Yellow Wort (Blackstonia perfoliata)