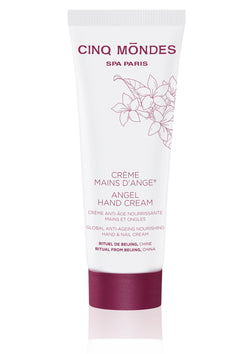 J'ai of Beverly Hills
CINQ MONDES ANGEL HAND CREAM
Nourishing, non-greasy cream for hands and nails with a delicate fragrance of Cedarwood and Citrus that prevents the appearance of pigmentation spots.
Inspired by an ancient recipe used by rice farmers to protect their hands, Cinq Mondes has updated this formulation to create the Angel Hand Cream containing pioneer ingredients from the Chinese Pharmacopoeia such as:
> Bamboo to stimulate collagen production
> Chinese White Mulberry to prevent dark spots
> Organic Aloe Vera extracts to moisturise the the upper layers of the epidermis.

Protected by a UV filter, hands are left feeling soft, with no greasy residue, and nails are strengthened.