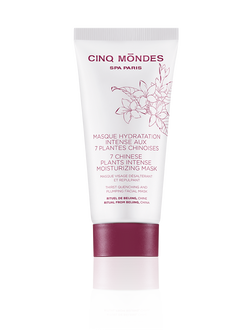 J'ai of Beverly Hills
CINQ MONDES 7 CHINESE PLANTS INTENSE MOISTURIZING MASK
An instant shot of hydration suitable for all skin types; it quenches even the thirstiest skin.
Inspired by Beauty Rituals of the Empress of China, Wu Zetian, who spread ointments on her face made from plants in the Traditional Chinese Pharmacopeia, Cinq Mondes Laboratories have developed advanced cosmetic science to provide an effective solution for dehydrated, uncomfortable skin.
This mask contains two patented active ingredients with smoothing and plumping power: Imperata Cylindrica and plant-based Hyaluronic Acid. The combination of 7 Chinese plants such as Sophora Japonica, Ginseng, Sesame and Organic Chinese Angelica with moisturizing (1) and antioxidant properties help fight oxidative stress and prevent dehydration wrinkles.
This remarkable SOS mask quenches the thirstiest skin.
The 7 Chinese Plants Intense Moisturizing Mask has an in-depth plumping effect and provides instantaneous comfort thanks to its extra fresh, creamy gel texture and velvety finish. Its exotic fragrance of jasmine, bergamot and cedarwood ensures a sensorial journey to new horizons in the heart of China!
Your skin is instantly hydrated, plumped and protected from external aggressive factors.