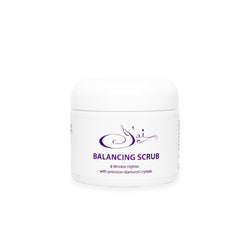 J'ai of Beverly Hills
Balancing Scrub
Precision diamond crystals gently remove dead skin cells to stimulate faster collagen production, remove sun spots, diminish fine lines and wrinkles, reduce acne scarring, and help correct uneven skin tone. Scrubs that sell for twice the price don't do half the work of this scrub, making it a top-seller in my studio and a product that many clients won't be without. For all skin types. Paraben Free.
J'ai says
My Balancing Scrub is a long-time personal and client favorite. It is a superior scrub that does dual duty as an exfoliator and wrinkle fighter. This product is so effective, you will see dramatic results.
Ingredients
Aloe Barbadensis (AP@ Genuine virgin organic aloe vera) Leaf Extract, Safflower Oil, Glyceryl Sterate, Dimethicone, Allantoin, Diamond Crystal Complex, Pathenol (pro Vitamin B5), Avocado Oil, Cetyl Alchohol, Carbomer, Phenoxyethanol, Tocopherol (Vitamin E) Methylisothiazolinone.