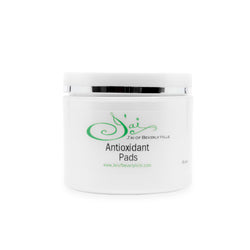 J'ai of Beverly Hills
Antioxidant Pads
If you want to clean the skin without stripping the natural oils from the skin, these are the best pads for this. These unique pads are specially formulated to gently cleanse and hydrate the skin. These pads are a favorite of my celebrity clients particularly when they're on location. They not only remove makeup but they help moisturize the skin. They are recommended for dry, dehydrated skin or as a booster product.
60 Pads
J'ai says
This is a perfect all-in-one pad.
Ingredients
Purified Water, Citrus Extract, l-Ascorbic Acid, Citrus Terpenes, Camillia Ainensis (Green Tea) Leaf Extract, Ascorbyl Glucosamine, Ascorbyl Palmitate, Tocopheryl Acetate, Retinyl Palmitate, Phospholipids, Glycerath-26, Xanthan Gum, PEG-60, Castor Oil, Superoxide Dismutase, Tertasodium EDTA, Diazildynl Urea, Phenoxyethanol.