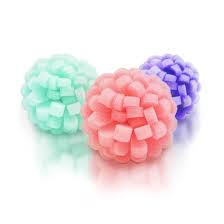 J'ai of Beverly Hills
Via Buff
If you are looking for a top-of-the-line exfoliating buff for the face, then look no farther than the ViaBuff Facial Buff.
Each facial buff was  designed with a special open-cell polyurethane structure that promotes rapid air drying and discourages bacterial growth, so that you can ensure a deeply-cleansing exfoliative experience.
We love the blue for sensitive skin and the pink for a deeper exfoliation.  These buffs are gems.